Cognex ViDi, Deep learning software is used to predict patterns and perform judgment-based applications. This advanced technology deploys artificial intelligence (AI) algorithms to teach robots and machines to do what comes naturally to humans: learning by example.

From the phones in our pockets to the reality of self-driving cars, the consumer economy has started to tap into the power of deep learning's neural networks. This same technology is now migrating into advanced manufacturing practices for quality inspection and task automation. Before trusting an AI-based system to make critical decisions such as defect detection however, it must undertake robust testing and validation. Cognex makes this process easy.

Cognex Deep Learning is designed for factory automation. Its field-tested algorithms are optimized specifically for machine vision, with a graphical user interface that simplifies neural network training without compromising performance. Combining artificial intelligence (AI) with In-Sight or VisionPro software, it automates and scales complex part location, assembly verification, defect detection, classification, and character reading inspection applications that, until now, were too challenging for traditional machine vision alone.

Deep Learning solutions from Cognex expand the limits of what a computer and camera can inspect.
Applications that previously required vision expertise are now solvable by non-vision experts. Deep learning technology transfers the logical burden from an application developer, who develops and scripts a rules-based algorithm, to an engineer training the system. In this way, deep learning makes machine vision easier to work with, while expanding the limits of accurate inspection.
Cognex ViDi, Deep learning software included with Permanent Runtime with Training license for VisionPro MAX, Deep learning all tools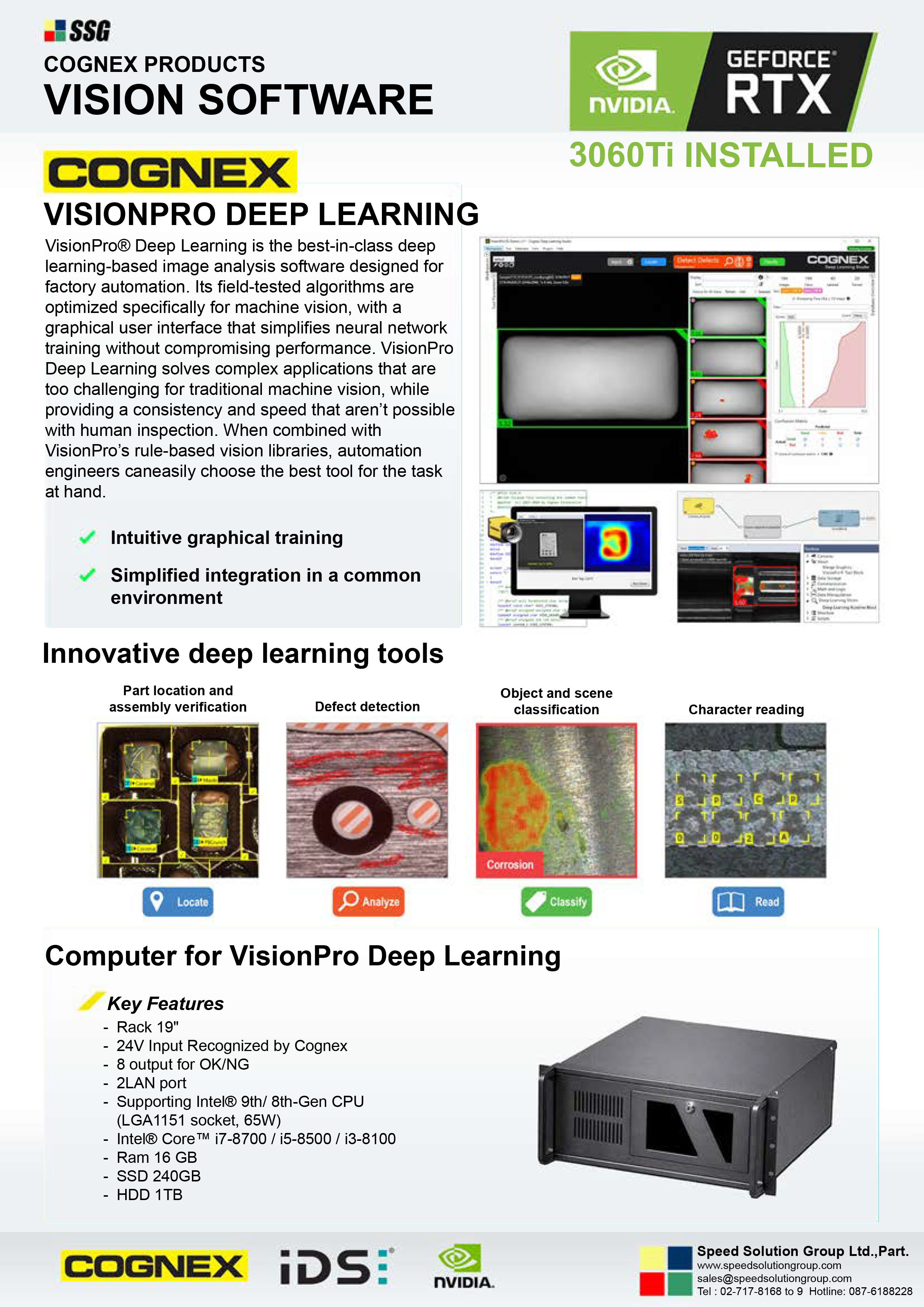 https://www.speedsolutiongroup.com/images/image/CognexVidi/VisionVidi.pdf