uEye CP CAMERAS: NOW AVAILABLE WITH SONY POLARISATION SENSOR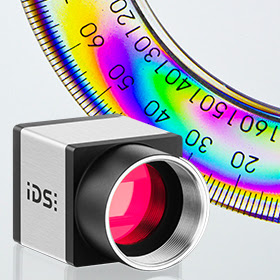 The global shutter CMOS sensor IMX250MZR with integrated on-pixel polarizer from the Sony Pregius family ensures better object detection in cases of low contrast or reflective light. It can also be used to easily detect scratches on surfaces or the distribution of stress within transparent objects.

The 5 MPixel sensor is now available in our 29 x 29 x 29 mm uEye CP industrial cameras. Both USB3 Vision and GigE Vision interfaces are available. Due to the polarisation filter, the sensor generates an image with four polarisation directions in a single image. Based on the intensity of each directional polarisation, the polarisation direction and the degree of polarisation of the light source can be determined. These characteristics make the sensor highly versatile - for example, for checking residues on surfaces before further processing or for traffic monitoring.