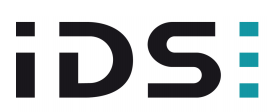 GV-5800SE-C-HQ and U3-5800SE-C-HQ
20 MP ROLLING SHUTTER CAMERA
Light-sensitive and extremely high-resolution sensors such as the IMX183 from Sony are used whenever smallest details need to be captured precisely. In addition to uEye SE cameras with USB3 Vision, you can now also select GigE Vision as interface.
You can choose between uEye SE industrial cameras with metal housing or board-level versions with or without front flange, which can be easily and space-savingly integrated into vision systems. The BSI ("back-side-illumination") technology of the rolling shutter sensor makes effective use of the captured light. This ensures exceptional image quality with very low noise even in poor lighting conditions.
Thanks to the GigE Vision interface, the cameras can be programmed with IDS peak, for example. The SDK simplifies the use of GenICam and provides an intuitive programming experience. IDS peak allows you to quickly and easily operate Vision cameras and to start developing your machine vision applications right away.